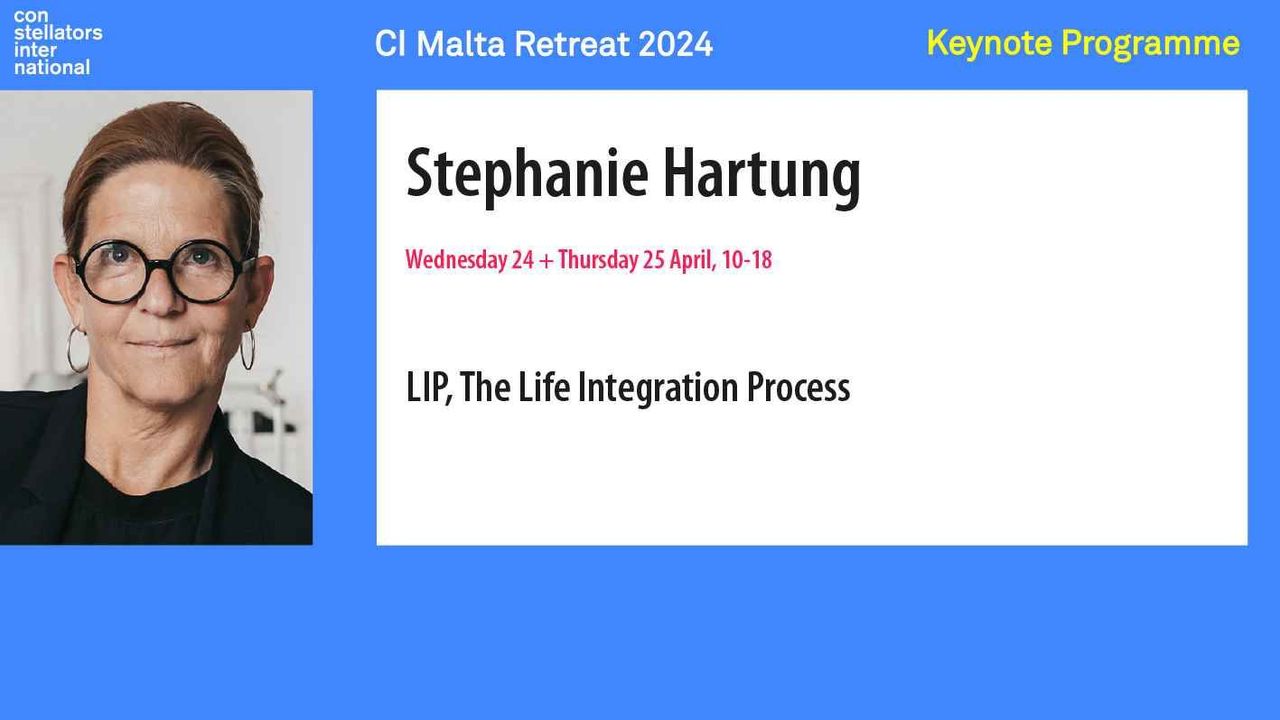 CI Malta Retreat 2024, Workshop Stephanie Hartung
Sat 04. May 2024 10:00
to Sun 05. May 2024 18:00
(UTC +0)
Marfa Road, Mellieħa, Malta, MLH 9063
show map
About Stephanie
With a study in painting, art history, and art philosophy, Stephanie worked as a painter for 13 years before completing management studies. She also received further educational training in systemic counseling methods and therapies – and turned to business and personal development.
For more than 20 years, she ran her brand development and design management consultancy. Since 2011, Stephanie also worked as a Gestalt therapist. As an author, she has published various books, holds lectures on systemic organizational development at the university, trains in systemic and organizational constellations, and advises on organizational and personnel development. With her partner Jürgen, Stephanie started CONSTELLATORS INTERNATIONAL in 2019.
LIP, The Life Integration Process
The Life Integration Process (LIP) according to Wilfried Nelles is a new form of constellation work.
Working with the LIP does not require a specific theme or concern. Unlike family constellations, it is not about the relationship to others, but about the relationship and inner attitude to oneself.
On our journey through life, we pass through different stages, each with its own inherent consciousness. The LIP maps these stages as a wheel of life. From our adult consciousness, the here and now, we look at our time in the womb, childhood, and adolescence and see the challenges we faced there.
In the adult position, we stand as the client ourselves, for the unborn child, the child, and the adolescent we choose representatives.
In this position, we see how these experiences have shaped our being. We also see what is and what needs to be integrated. We may also discover an undiscovered innate potential, a talent, or a purpose in life that needs to be lived.
In her LIP workshop, Stephanie introduces the Life Integration Process as a powerful format for your personal development.
We offer 40 places in this workshop and recommend your early booking.
Please notice that the ticket for the Keynote Workshop is only valid in combination with a week's ticket. You can buy 1, 2 or 3 week's tickets. If you have any questions, please contact us at call@constellators-international.com
Refund policy
Event tickets are non refundable
250€
Malta Retreat 2024, Workshop Stephanie Hartung
In her LIP workshop within the keynote programme of the Malta Retreat 2024, Stephanie introduces the Life Integration Process as a powerful format for your personal development. We offer 40 places in this workshop and recommend your early booking. Please notice that the ticket for the Keynote Workshop is only valid in combination with a week's ticket. You can buy 1, 2 or 3 week's tickets. If you have any questions, please contact us at call@constellators-international.com
sale ends

03.05.2024 00:59
0 tickets, total price 0€
(including VAT 0€)
more from
CI Malta Retreat 2024