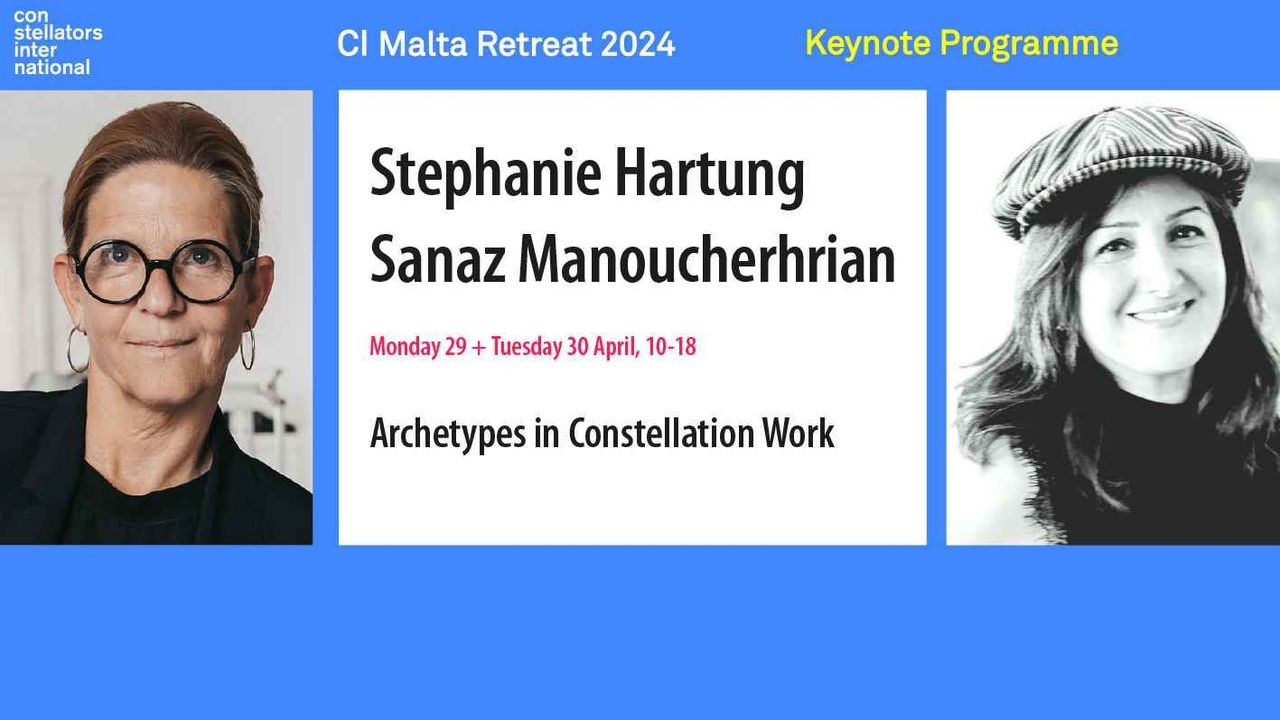 CI Malta Retreat 2024, Workshop Stephanie Hartung + Sanaz Manouchehrian
Mon 29. Apr 2024 10:00
to Tue 30. Apr 2024 18:00
(UTC +0)
Marfa Road, Mellieħa, Malta, MLH 9063
show map
About Stephanie and Sanaz
Stephanie and Sanaz met in 2017 in Cologne and started collaborating at the Constellators International Academy in 2022.
See their profiles on the CI page. Stephanie's profile Sanaz's profile
Archetypes in Constellation Work
In constellations, archetypes can provide an opportunity for us to shift into our right hemisphere, where the linear logic of the left brain dissolves to reveal an inseparable wholeness of our existence. Here our vision of the "all is one" becomes reality.
Moreover, the hidden orders of human existence emerge and reveal an almost impenetrable form. Archetypes form a new frontier where appropriate systemic solutions can demonstrate their generalized power as well as their transcultural impact.
The experiential reproduction of the archetypal images connects us to our deepest roots that emerge as living and active, therefore changeable, elements within us.
In this workshop, Stephanie and Sanaz will introduce you to the various archetypes, their shadows, and the impact they have on our lives.
We offer 40 places in this workshop and recommend your early booking.
Please notice that the ticket for the Keynote Workshop is only valid in combination with a week's ticket. You can buy 1, 2 or 3 week's tickets. If you have any questions, please contact us at call@constellators-international.com
Refund policy
Event tickets are non refundable
250€
Malta Retreat 2024, Workshop with Stephanie Hartung + Sanaz Manouchehrian
In this workshop, Stephanie and Sanaz will introduce you to the various archetypes, their shadows, and the impact they have on our lives. We offer 40 places in this workshop and recommend your early booking. Please notice that the ticket for the Keynote Workshop is only valid in combination with a week's ticket. You can buy 1, 2 or 3 week's tickets. If you have any questions, please contact us at call@constellators-international.com
sale ends

29.04.2024 00:59
0 tickets, total price 0€
(including VAT 0€)
more from
CI Malta Retreat 2024