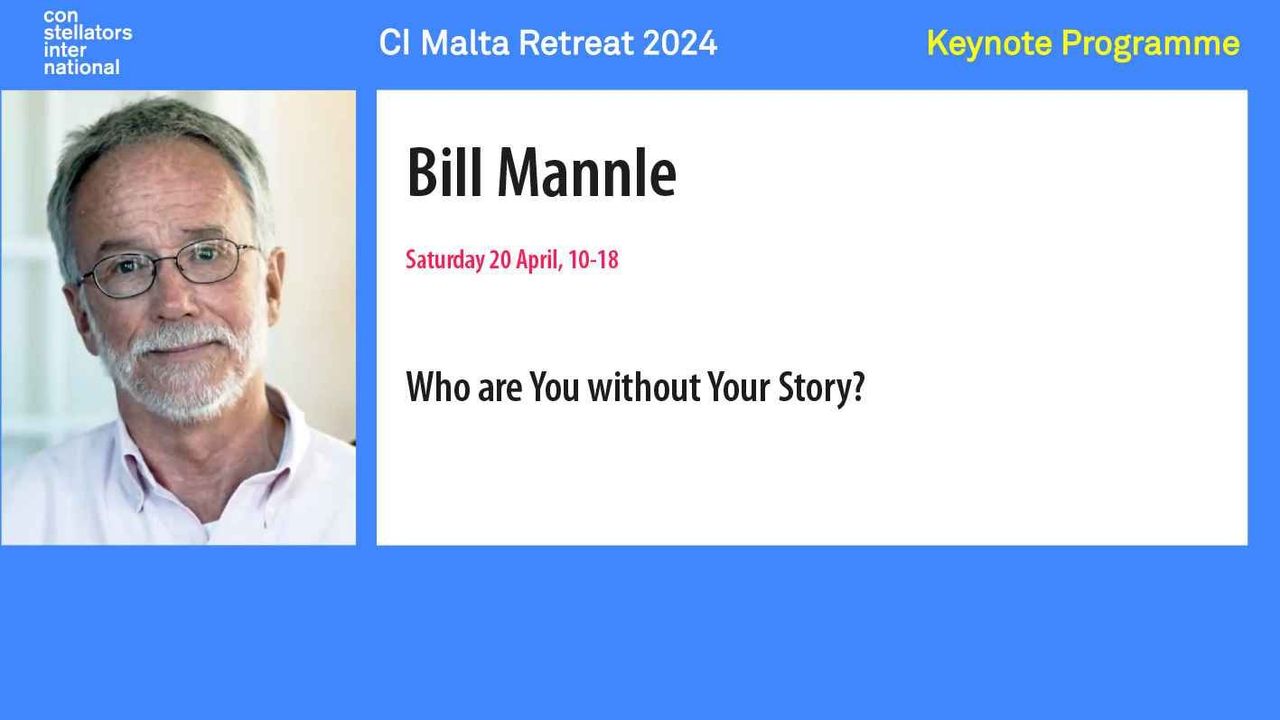 CI Malta Retreat 2024, Workshop Bill Mannle
Sat 20. Apr 2024 10:00
to Sat 20. Apr 2024 18:00
(UTC +0)
Marfa Road, Mellieħa, Malta, MLH 9063
show map
About Bill
Bill is a Gestalt and Marriage & Family Therapist in private practice in Connecticut, USA. He has been involved with Family Constellations since 2003. As an international trainer and facilitator, he has conducted seminars in Connecticut, New York, California, Hawaii, Germany, Romania, Denmark, Australia, Mexico, Spain, Belgium, Brazil, Canada, Croatia, and China.
Bill is interested in Constellation's ever-expanding form and is currently exploring its deeper spiritual, heart-opening nature, and the effects along the path.
Reconnecting with Split Parts
Through rituals, exercises, and Family Constellations, you will learn:
To recognize the core beliefs and myths that make up your story
To see where you have been emotionally entangled and how to shift to a new perspective
How the story about your trauma and or parents keeps you stuck and unable to live a more authentic life
Practices that allow you to release the restrictive aspects of "your story" and surrender to something new
We'll dive deeply into these myths, concepts, and beliefs in your core conditioning. We will explore how to "surrender" to something new and perhaps discover the grace we need to let our story "drop away."
We offer 40 places in this workshop and recommend your early booking.
Please notice that the ticket for this Keynote Workshop is only valid in combination with a week's ticket. You can buy 1, 2 or 3 week's tickets. If you have any questions, please contact us at call@constellators-international.com
Refund policy
Event tickets are non refundable
150€
Malta Retreat 2024, Keynote Programme,1 day Workshop with Bill Mannle
Through rituals, exercises, and Family Constellations, you will learn: To recognize the core beliefs and myths that make up your story To see where you have been emotionally entangled and how to shift to a new perspective How the story about your trauma and or parents keeps you stuck and unable to live a more authentic life Practices that allow you to release the restrictive aspects of "your story" and surrender to something new We'll dive deeply into these myths, concepts, and beliefs in your core conditioning. We will explore how to "surrender" to something new and perhaps discover the grace we need to let our story "drop away." We offer 40 places in this workshop and recommend your early booking. Please notice that the ticket for this Keynote Workshop is only valid in combination with a week's ticket. You can buy 1, 2 or 3 week's tickets. If you have any questions, please contact us at call@constellators-international.com
sale ends

19.04.2024 23:59
0 tickets, total price 0€
(including VAT 0€)
more from
CI Malta Retreat 2024